Last updated on May 3rd, 2023
Horse Betting – What You Must Know
Horse racing is one of the hidden gems in sports betting. This event generates fanfare among enthusiasts and bettors, especially high rollers. Hence, understanding horse betting should top your list if you want to step above the regular games. This sport spans centuries, and it carries several winning opportunities. Many horse racing betting apps are available to get you started on the sport. However, it is best to understand how the bets and odds work before jumping in on the excitement. This brief piece will explore horse betting, including essential terms prevalent in the sport. We'll begin with the best bookmakers for wagering on the sport to give you a foothold and prepare you to wager.
Top Sports Bookmakers for Horse Racing
The first step to placing wagers on this event is getting on the right platform. We have a list of horse racing betting sites ready to go, but let's explain what you should expect. These platforms distinguish themselves from average ones by offering premium features.
How We Bet on Horses
Let's look briefly at how to bet on horses before we explore the odds and betting markets. Moreover, you must know how to get in before placing the bets. That said, here are the steps for betting on horse racing:
Find a reputable sportsbook: Not all sportsbooks feature this sport. Even those that do have a few bad eggs among them. You can pick from our list to save time.
Sign up with the operator: You need an account to place wagers. Hence, register with your preferred bookmaker and ensure you have no account restrictions. Verify your account to become a recognized bettor.
Deposit real-cash: Real-money bets call for cash. Sportsbooks have several payment methods to ease the process of account funding. So, find one that suits you and deposit money into your account.
Adjust your bankroll: It is best to set a budget for your betting horse racing session. You can use the tools on the platform or deposit the exact amount into your account. Find the event: Go to the sports section and select horse racing. Find ongoing or upcoming events and click on them.
Pick the market and odd: Find the market you want to bet on. Pick the horse and place your wager on the odds.
How do Odds Work in Horse Racing?
The odds show you how the risk compares to the rewards. Sportsbooks offer a higher payout (higher odds) for the riskiest outcomes. However, that shouldn't be your starting point. Here is a brief explanation of how the betting odds work. Let's assume we have odds of 10-1 and 5-2. We can read them as 10/1 and 5/2 in fractional format. The first odds mean you will win ten units for every unit you wager. On the other hand, the second means you will win five units for every two-unit wager. That is the simplest explanation. Some bookies will place single digits on the horses. Multiplying that with your wager will give you your potential winnings (including your stake).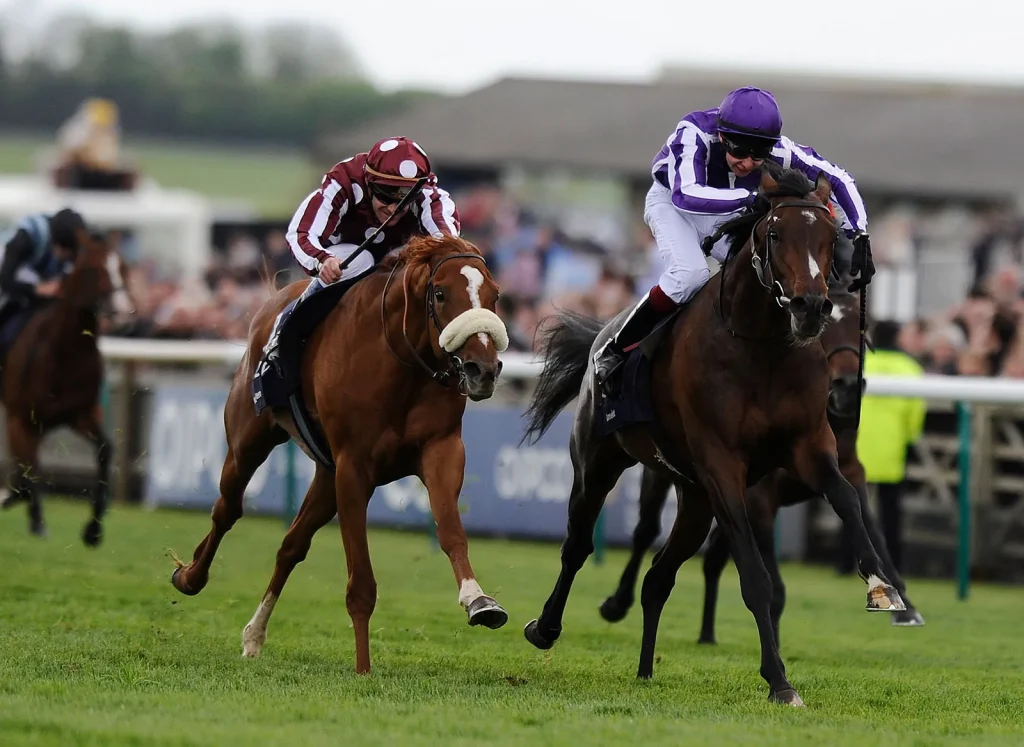 Types of Horse Racing Bets
Horse racing lacks the variety of more pronounced sports like football and basketball. However, you can still get decent action on the sports if you know the bets. Here are the typical bets:
Winner: This bet is simple enough, as it involves picking the horse you think will win the race. A race can have seven or eight horses.
Top 2: You can pick the horse you think will be in the top two as the winner or the runner-up. It is a less risky bet than the outright winner.
Top 3: This wager is similar to the "Top 2." Instead of staking on the top 2, you stake on the top 3.
Finishing position: This bet involves predicting which place a runner will take in a race.
Horse Racing Glossary
Here are a few terms to bring you up to speed when betting on this sport:
Bearing in/out: This term means that the horse is not maintaining a straight course. You'll hear it often in the commentary.
Blanket finish: It refers to a tight finish where the runners are close to each other.
Dead heat: This term refers to a tie due to the inability to determine which horse crossed first.
Front running: It refers to the runner that builds a lead in the early stages.
Homestretch: This term refers to the final straight section to reach the finish line.
Is Online Horse Racing Betting Legal in Nigeria?
You'll have no legal concerns betting on this sport, provided the sportsbook is licensed in the country. Always verify the licenses before registering and placing wagers.
Major Horse Racing Events
Here are the major racing events to keep an eye out for:
Cheltenham Gold Cup
Dubai World Cup
Grand National
Kentucky Derby
Peakness Stakes
FAQ for Horse Betting in Nigeria
Is horse betting safe?

Betting on this sport is safe. Ensure you are on a licensed platform.

How can I bet on a race?

Register with a bookmaker that features the sport. Fund your account and place a bet on an event.

What is a show bet?

This wager predicts a runner to finish in any of the first three positions.

What is a pick 5 bet?

This wager involves picking the winner of five consecutive races.

Is there a winning strategy?

You can study the horses and their past performances to improve your chances.

What does post-time mean?

This refers to the time before a race begins. Betting will be closed.

Can I win real money from this sport?

You can win real money if you place actual wagers on the events.

Can I bet in a live race?

Live wagers are available but are rare because of the short duration of the races.

What is a trifecta?

This wager involves predicting the first, second, and third winners.

What does a 5/2 odd mean?

It means you will receive a 5-unit payout for every 2 unit wager.